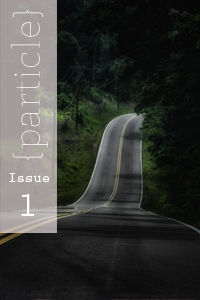 /
Letter from the Editors:
Welcome to Particle, UNMC's School of English online creative writing magazine, a literary journal open to students and staff from across the University of Nottingham's three international campuses. We are delighted to include poetry, fiction and creative non-fiction by talented writers in Malaysia, China and the United Kingdom.
The magazine is put together by a team of staff and student editors who select and edit the submissions we receive.
Please see the submission guidelines if you are interested in having your work included in the next issue. Thank you to all those who submitted their work, the student editors and to Sara Yee for organising the website. We hope you enjoy the first issue!
---
Creative Nonfiction
My PAPA
Revathi A/P Raviadaran
Fiction
Bird's Eye
Gus Xie
The Last Deed
Rayhan Arshad
View from the Window
Heather-Leigh Corser
Poetry
Eva, My Evening
Carolina Santiago
The Fear
Harry Patte-Dobbs
I Have A Sinking Feeling
Lauren Clarke
Image
Avijit Chowdhury
In Short
Jessamyn Read
Land
Jessamyn Read
Silence Speaks
Yan Lai Peen
Sleepless Nights
Olivia Yeoh Yunn Xin
Spires
Naomi Upton
Ten Thousand Wishes
Nava Mehjabeen Rahman
When You're Not Paying Attention
Puteri Yasmin Suraya