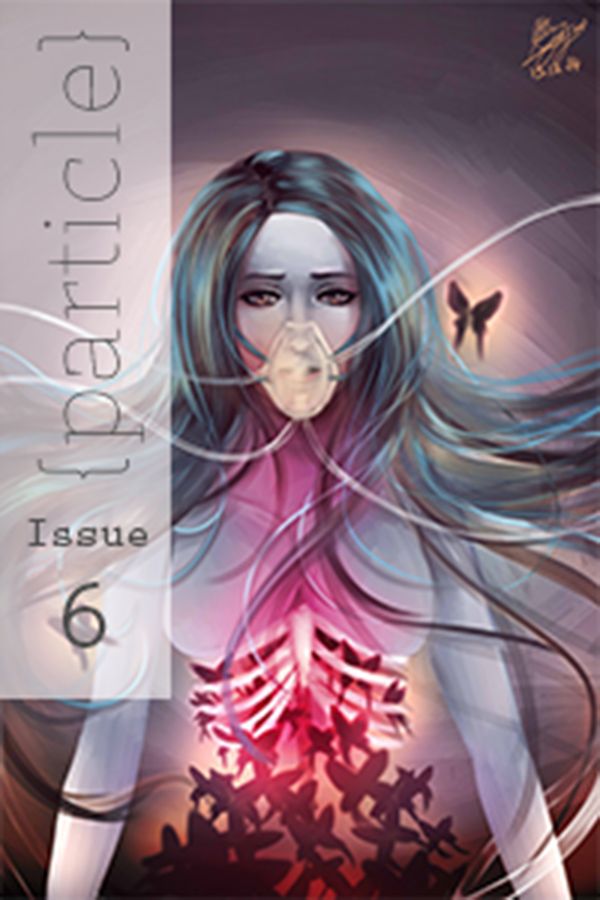 /
Letter from the Essays & Reviews Editors:
We proudly present to all our readers the 6th issue of Particle Magazine. This issue, though un-themed, has found a theme for itself in the twists and the turns of the poems, stories, essays and reviews that comprise it. The cover image plays a significant role in portraying the implication behind this issue—freedom of expression.
A somber-looking girl is submerged under water, evoking a sensation of being suffocated. She struggles to breathe, hence the oxygen mask on her face. In contrast to the 'tight' and 'restricted' emotions that the artwork elicits, there are butterflies trapped in her rib cage, with a few being able to escape and fly away. Butterflies are often associated with growth and transition. Perhaps, the girl is undergoing a metamorphosis—transforming herself from reserved and reticent, to the most liberated and beautifully free version of herself.
Therefore, for this particular issue, writers were able to submit works with any themes they desired, which makes this issue very special and different from the past. Perhaps, you could say that this is a form of metamorphosis.
In this issue you will witness some remarkable work, and you will be able to pinpoint the exact moment some people found a form of liberation. The artwork is a beautiful symbol of the writing in this issue: the expression of feelings and emotions and thoughts and ideas that make us human.
We are also pleased to announce the winners of the Cascade Aspiring Writers Contest for the 2015/16 year.
We hope that you enjoy reading this issue as much as we have while putting it together.
Sara Samir Foad Albadran and Kelvin Wong,
Essays & Reviews Student Editors
---
Creative Nonfiction
Aging is a Process of Deepening Mediocrity
Lucy Guo
Utopia
Yehezkiel Faoma
Essays
Imagine
Lim Hui Ee
Leadership 101: Be a Volunteer
Lim Hui Ee
Mad Men and Moral Maids: Gothic Masculinity and Domesticity in Wuthering Heights and The Strange Case of Dr Jekyll and Mr Hyde
Gus Xie
Trouble in Suburbia
Gus Xie
Fiction
Ouranós
Ian E.C.
Reflections Through a Looking Glass
Norah Ramli
The Visitor
Hannah Turner
Poetry
at the end of a day
Jonathan Sim
Birthday Song
Suzanne Azizul Ong
Champ
Jonathan Sim
December 31st
Chloe Hor
Dreamer
Putri Emilia
Mars
Chloe Hor
Smalltalk
Azelyn Klein
A Study on Celestial Bodies
Puteri Yasmin Suraya
Touched and Touch
Putri Emilia
Water Weight
Puteri Yasmin Suraya
Reviews
On the Road: A Review
Yehezkiel Faoma