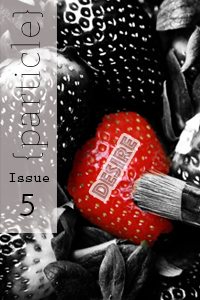 /
Letter from the Poetry Editors:
Break out the scented candles, the rose petals and the chocolate soufflés; the fifth instalment of Particle is here and its theme is 'Desire'.
William Wordsworth once said that 'poetry is the spontaneous overflow of powerful feelings: it takes its origin from emotion recollected in tranquility'. Of course if the great poet said it, then it must be true. In this issue, we hoped to see people let out their raw emotions, real, unrequited, unaltered and true to the desire that they've chosen to acknowledge, and they did. Our contributors have courageously put forth their desires onto paper, inviting us to bear witness to their stories. In this issue, we are given the opportunity to embark on an exploration of the variations of desire—the nagging needs and seemingly perennial longings that overtake us but at the same time inspire us.
One thing that we, the editors, desire is to find ways to foster a literary culture within UNMC. Which is why, along with our biannual book sale event, we posses the desire to host UNMC's very first poetry slam—an open mic night for the spoken word. Whether you're a novice to the form, or a silver-tongued veteran, all will be welcome to take to the stage.
Until then, we do hope you enjoy this issue's collection of works. A piece in this issue just may trigger your own desire to write something for the next one.
Nurazlin Khalit and Amanda Jacob,
Poetry Student Editors
---
Essays & Reviews
Entering Post-Feminism
Norah Ramli
Kindness
Yehezkiel Faoma
Fiction
Butterfly to Carrion
Elizabeth Boyd
If Only
Choo Suet Fun
It Happens
Norah Ramli
Tempt
Yehezkiel Faoma
Vietnamese Bride
Zhang Yanting
Poetry
I Am Leaving
Natty Moore
Manmade Lake
Gus Xie
Puddle
Azelyn Klein
Scarlet
Andrea Bowd
Spectrum
Gus Xie
Sunday
Esme Patridge
Wasteground
Rachael Smart
Wings
Delilah H.